Industrial and Professional Advisory Council (IPAC)
The Industrial and Professional Advisory Council is a select group of representatives from industry, government agencies, academia, who advise the College of Engineering on academic issues and on current trends and future directions in engineering.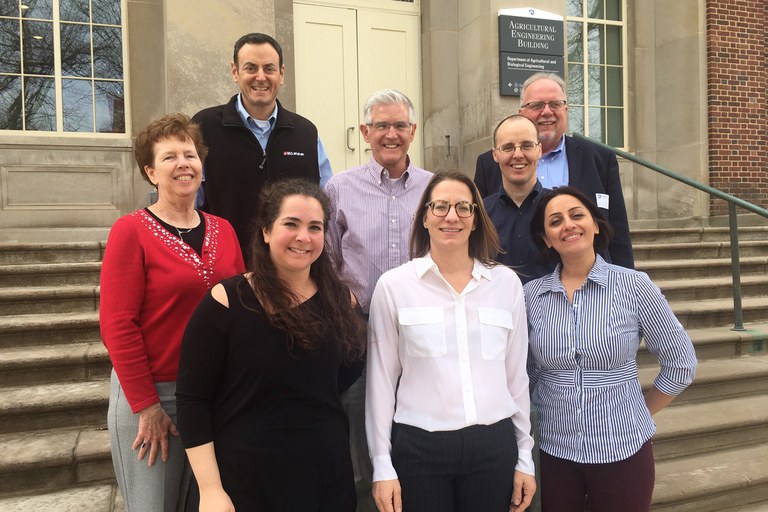 Left to Right: Mary Leigh Wolfe (Head, Dept. of Biological Systems Engineering, Virginia Tech University), Andrew Wedel (McLanahan Corp), Pamela Riewerts (Esq. Oliver & Grimsley LLC), Galen Julius (VP of TAMS Systems), Jennifer Rauhofer (President Stormwater Consulting/Stormwater Maintenance), Brian Noll (VP of Environmental Water Resources, WBCM), Tim Hoover (National Sales Manager, GEA Process Engineering), and Farzenah Rezaaei (Director Fermentation and Formulation, Pivot Bio)
The College of Engineering sponsors the IPAC program, and the Department of Agricultural and Biological Engineering participates and has its own IPAC team. The ABE IPAC team includes members employed in natural resource engineering, biological and food process engineering, machinery companies, universities, structural design firms, general engineering companies, private consultants, etc.
IPAC members are selected by the faculty and department head in ABE, and serve a three-year term, which can be renewed one time.
The College of Engineering's annual meeting of The Industrial and Professional Advisory Committees (IPAC) was held March 13-14, 2019. The ABE IPAC team met with faculty, staff, and students from the ABE department to provide feedback and recommendations on department progress. This years the group got to tour the new construction site. The committee's next meeting will be in March 2020. We greatly appreciate the time and energy put forth by our team.
Those members who are not pictured are: Abolghasem Shahbazi (Director NSF-CREST Bioenergy Center, North Carolina A&T State University), Kevin Comer (Senior Project Manager, Antares Group, Inc.), and Mark Beltowski (Manager, Component Development, Turf & Utility Platform Engineering).
For more information about the College of Engineering IPAC please visit this link.