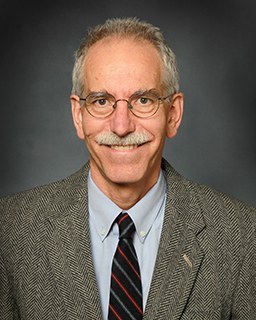 Tom

L.

Richard

,

Ph.D.
Professor of Agricultural and Biological Engineering
Director of Penn State Institutes for Energy and the Environment
Bioenergy and Bioresource Engineering
219 Agricultural Engineering Building
Shortlidge Road
University Park
,
PA
16802
Areas of Expertise
Lignocellulosic biomass conversion
Bioenergy
Manure conversion
Sustainable agriculture
Education
B.S. Political Economy of Natural Resources, University of California, Berkeley, 1978
M.S. Agricultural Engineering, Cornell University, 1987
Ph.D. Biological Engineering, Cornell University, 1997
Research
Dr. Richard's Bioconversion Research Group applies fundamental engineering science to microbial ecosystems, developing innovative strategies for a more sustainable agriculture and the emerging bio-based economy. Our particular emphasis is on microbial processes that occur in three-phase porous media, where solid, liquid, and gas phases all play critical roles. These porous media systems are referred to variously as:
solid-state fermentation in the biotechnology, pharmaceutical, and food processing industries;
composting in the manure management and solid waste realms,
ensilage on dairy and beef cattle farms, and
soils in agroecosystems.
The complexity of these systems lies not only in their immediate physical, chemical, and biological dimensions, but also in the human and natural systems within which they are embedded. Understanding and improving the performance of these microbial processes demands a multi-dimensional perspective and invites interdisciplinary collaboration.
Dr. Richard currently directs the Northeast Regional Sun Grant Center for the USDA, serves on the Agricultural Science Committee of the U.S. EPA's Science Advisory Board and is the deputy technical director for the DOE's National Risk Assessment Partnership for geologic carbon sequestration. Tom is the author or co-author of over 150 research and technical publications, a Fellow of the American Society of Agricultural and Biological Engineers, and a Fellow and Past President of the Institute of Biological Engineering.
Research themes
Current sponsors include the National Science Foundation, the U.S. Department of Energy, and the U.S. Dept. of Agriculture.
For those who might be interested, my Ph.D. dissertation is available on-line:
Richard, T.L. 1997. The Kinetics of Solid-State Aerobic Biodegradation. Cornell University, Ithaca, NY
Engagement
We are pleased that our research has proven useful to businesses, schools, citizens and policymakers. The following links illustrate some of these contributions:
Teaching
For information about courses please visit the LionPATH Course Catalog.
Recent Publications
Hannon, J.R., L.R. Lynd, C.E.Wyman, O. Andrade, P.T. Benavides, G. Beckham, M.J. Biddy, N. Brown, D. Bushong, M.R. Chagas, B. Davison, T. Foust, T.L. Junqueira, M.S. Laser, Z. Li, T.L. Richard, L. Tao, G. Tuskan, M. Wang and J. Woods.   2019. Technoeconomic and life cycle analysis of catalytically converting wet ethanol into fungible fuel blendstocks. Proceedings of the National Academy of Sciences, 2019; 201821684 DOI: 10.1073/pnas.1821684116
Malone, R., S. Herbstritt, L. Ma, T.L. Richard, R. Cibin, P. Gassman, H. Zhang, D. Karlen, J. Hatfield, J. Obrycki, M.J. Helmers, D.B. Jaynes, T.C. Kaspar, T.B. Parkin, and Q.X. Fang. 2019. Corn stover harvest N and energy budgets in central Iowa. Science of the Total Environment 663, 776-792. https://doi.org/10.1016/j.scitotenv.2019.01.328
Langholtz, M., Eaton, L., Davis, M., Shedden, M., Brandt, C., Volk, T., and T.L. Richard. 2019. Economic comparative advantage of willow biomass in the Northeast USA. Biofuels, Bioproducts and Biorefining 13(1), 74-85.
Liang, X., J.M. Whitham, E.K. Holwerda, X. Shao, L. Tian, Y-W. Wu, V. Lombard, B. Henrissat, D.M. Klingeman, Z.K. Yang, M. Podar, T.L. Richard, J.G. Elkins, S.D. Brown, and L.R. Lynd.  2018. Development and characterization of stable anaerobic thermophilic methanogenic microbiomes fermenting switchgrass at decreasing residence times. Biotechnology and Biofuels 11:243.  https://doi.org/10.1186/s13068-018-1238-1
Essien, D.  M. Marshall, T.L. Richard, and A. Ray.. 2018. Corn stover reactivity to cellulolytic enzymes after wet storage. Frontiers in Energy Research 6:108. doi: 10.3389/fenrg.2018.00108
Essien, D. and T.L. Richard. 2018.  Wet ensiled storage enhances pretreatment and bioconversion of corn stover. Frontiers in Bioengineering and Biotechnology 6:195. doi: 10.3389/fbioe.2018.00195
Dale, V.W., K.L. Kline, T.L. Richard, D.L. Karlen and W.W. Belden. 2018.  Bridging biofuel sustainability indicators and ecosystem services through stakeholder engagement. Biomass and Bioenergy 114:143-156. https://doi.org/10.1016/j.biombioe.2017.09.016
Ligaba-Osena, A., K. DiMarco, T.L. Richard and B. Hankoua. 2018. The maize Corngrass1 miRNA-regulated developmental alterations are restored by a bacterial ADP-glucose pyrophosphorylase in transgenic tobacco.  International Journal of Genetics, Article ID 8581258, www.hindawi.com/journals/ijg/2018/8581258/
Hoffman, E., Cavigelli, M.A., Camargo, G., Ryan, M., Ackroyd, V.J., Richard, T.L. and S. Mirsky. 2018. Energy use and greenhouse gas emissions in organic and conventional grain crop production: Accounting for nutrient inflows. Agricultural Systems. 162:89-96. DOI:10.1016/j.agsy.2018.01.021
Malone, R.W.,  J.F. Obrycki, D.L. Karlen, L.Ma, T.C. Kaspar, D.B. Jaynes, T.B. Parkin, S.H. Lence, G.W. Feyereisen, Q.X. Fang, T.L. Richard, and K. Gillette. 2018. Harvesting fertilized rye cover crop: Simulated revenue, net energy, and drainage nitrogen loss. Agricultural and Environmental Letters 3:170041, doi:10.2134/ael2017.11.0041
Wolfe, M.L. and T.L. Richard. 2017. 21st century engineering for on-farm food-energy-water systems.  Current Opinion in Chemical Engineering 18:69-76, https://doi.org/10.1016/j.coche.2017.10.005
Ligaba-Osena, A., B. Hankoua, K. DiMarco, R. Pace, M. Crocker, J. McAtee, N> Nagachar, M. Tien and T.L. Richard. 2017. Reducing biomass recalicitrance by heterologous expression of a bacterial peroxidase in tobacco (Nicotiana benthamiana). Scientific Reports 7:17104, https://www.nature.com/srep/ ; doi:10.1038/s41598-017-16909-x
Liu, W., J. Wang, T.L. Richard, D. Hartley, S. Spatari, and T. Volk. 2017. Economic and Life Cycle Analyses of Biomass Utilization for Bioenergy Products in the Northeastern United States. Biofuels, Bioproducts and Biorefining 11(4):633-647. DOI: 10.1002/bbb1770
Ramcharan, A.M, and T.L. Richard.  2017. Carbon and nitrogen environmental trade-offs of winter rye cellulosic biomass in the Chesapeake Watershed. Agricultural Systems 156:85-94. http://dx.doi.org/10.1016/j.agsy.2017.05.017
Bonifacio, H.L. C.A. Rotz and T.L. Richard.  2017.  A process based model for cattle manure compost windrows: Part 2. Model performance and application.  Transactions of the ASABE 60(3):893-913.
Bonifacio, H.L. C.A. Rotz and T.L. Richard.  2017.  A process based model for cattle manure compost windrows: Part 2. Model description.  Transactions of the ASABE 60(3):877-892.
Pandey, J.L., S. N. Kiemle, T.L. Richard, Y. Zhu, D.J. Cosgrove and C.T. Anderson.  2016. Investigating biochemical and developmental dependencies of lignification with a click-compatible monolignol analog in Arabidopsis thaliana stems.  Frontiers in Plant Science Research 7:1309. doi:  10.3389/fpls.2016.01309
Carroll, S., J. W. Carey, D. Dzombak, N.J. Huerta, L.Li, T.L. Richard, W. Um, S.D.C. Walsh and L. Zhang.  2016. Review: Role of chemistry, mechanics, and transport on well integrity in CO2 storage environments. International Journal of Greenhouse Gas Control 49:149-160. DOI: 10.1016/j.ijggc.2016.01.010
Xiong, X., T.L. Richard and M. Kumar. 2015. Integrated acidogenic digestion and carboxylic acid separation by nanofiltration membranes for the lignocellulosic carboxylate platform. Journal of Membrane Science 489:275-283. DOI: 10.1016/j.memsci.2015.04.022
Kapp, N.E., W.J. Barnes, T.L. Richard and C.T. Anderson. 2015. Imaging with the fluorogenic dye Basic Fuchsin reveals subcellular patterning and ecotype variation of lignification in Brachypodium distachyon. Journal of Experimental Botany erv158. DOI: 10.1093/jxb/erv158.
Shao, X., K.M DiMarco, T.L Richard and L.R Lynd. 2015. Winter rye as a bioenergy feedstock:  impact of crop maturity on composition, biological solubilization and potential revenue. Biotechnology for Biofuels 8:35. DOI: 10.1186/s13068-015-0225-z.
Pandey, J.L., B. Wang, B.G. Diehl, T.L. Richard, G. Chen, and C.T. Anderson. 2015.  A versatile click-compatible monolignol probe to study lignin deposition in plant cell walls. PLOS ONE 10(4) e0121334. 
Bukowski, N., J.L. Pandey, L. Doyle, T.L. Richard, C.T. Anderson and Y. Zhu.  2015. Development of a clickable designer monolignol for interrogation of lignification in plant cell walls. Bioconjugate Chemistry 25(12): 2189-2196
Malcolm, G.M., G.G.T. Camargo, V.A. Ishler; T.L. Richard and H.D. Karsten. 2015. Energy and greenhouse gas analysis of northeast U.S. dairy cropping systems. Agriculture, Ecosystems and Environment199:407-417.
Dale, B.E., J.E. Anderson, R.C. Brown, S. Csonka, V.H. Dale, G. Herwick, R.D. Jackson, N. Jordan, S. Kaffka, K.L. Kline, L.R. Lynd, C. Malmstrom, R.G. Ong, T.L. Richard, C. Taylor and M.Q. Wang. 2014. Take a closer look: Biofuels can support environmental, economic and social goals. Environmental Science and Technology. DOI: 10.1021/es5025433.
Camargo, G.T.T., M.R. Ryan and T.L. Richard. 2013. Energy use and greenhouse gas emissions from crop production using the Farm Energy Analysis Tool. Bioscience

63(4):263:273.

Feyereisen, G.W., G.T.T. Camargo, R.E. Baxter, J.M. Baker and T.L. Richard. 2013.  Cellulosic biofuel potential of a winter rye double crop across the U.S. corn-soybean belt. Agronomy Journal 105(3):631-642.
Glanville, T.D., H.K. Ahn, T.L.Richard, J.D. Harmon, D.L.Reynolds, and S.Akinc.  2013. Effect of envelope material on biosecurity during emergency bovine mortality composting. Bioresource Technology 130:543–551.
Tanjore, D., T.L. Richard and M.N. Marshall. 2012.Experimental methods for laboratory-scale ensilage of lignocellulosic biomass. Biomass and Bioenergy 47:125-133.
Chen, Q., M.N. Marshall, S.M. Geib, M. Tien and T.L. Richard. 2012. Effects of laccase on lignin depolymerization and enzymatic hydrolysis of ensiled corn stover.  Bioresource Technology 117:186-193.
Brownell, D.K., J. Liu, J.W. Hilton, T.L. Richard, G.R. Cauffman, B.R. Macafee. 2012. Evaluation of two forage harvesting systems for herbaceous biomass harvesting. Transactions of the ASABE 55(5): 1651-1658.
Speer, M.A. and T.L. Richard. 2011. Amplified insert assembly: an optimized approach to standard assembly of BioBrick™ genetic circuits.  Journal of Biological Engineering 5:17.
Lee, R.L., R.A. Aziz, C.H. de Brito Cruz, A.F.A. Chimphango, L.A.B. Cortez, A. Faaij, N. Greene, M. Keller, P. Osseweijer, T.L. Richard, J. Sheehan, A. Chugh, L. van der Wielen, J. Woods, and W.H. van Zyl. 2011. A global conversation about energy from biomass: the continental conventions of the global sustainable bioenergy project. Interface Focus 1(2):271-279.
Baxter, R., G. Feyereisen, Y. Yu, and T.L. Richard. 2011. Winter crop and residue biomass potential in China.  Biofuels 2(5):503-513.
Durre, P and T. Richard. 2011. Microbial energy conversion revisited.  Current Opinion in Biotechnology 22(3): 309-311.
Richard, T.L. 2010. Challenges in scaling up biofuels infrastructure. Science

329: 793 – 796.